So the default mapping from BSS exported folder structure onto Django's structure is pretty standard. If you create a subfolder of pages, that folder will be considered the Django application folder (A Django project is a directory of apps), and your template.html will be placed in DjangoRoot/app_name/templates/template.html. If on the other hand your template resides in BSS export root, then the template will sit inside DjangoRoot/templates/template.html. And so on…
But these smart defaults are overridable as you can see.
BootstrapStudioToDjango GitHub Repo
Here is the Export Mapping tab:

**Here is the Getting Started tab: **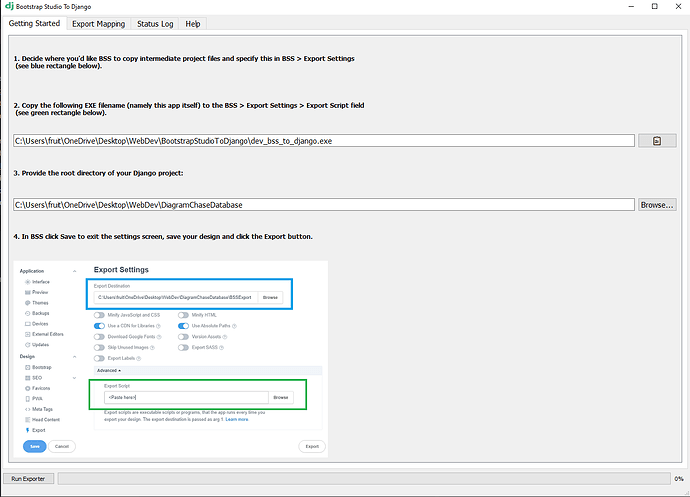 I would like to not have to manually do boilerplate things such as create a new accounts application for a basic Django login feature. So what I want to do is create a custom component in BSS that tells the exporter what it needs to generate.
I was wondering how I can get my components to show up under the "Online" section of BSS so that others can see them, and then click their help link to download BSStoDjango.
BSStoDjango is pretty far along but I wouldn't try it out quite yet. I have to figure out how to handle internal Django view url's and map them from .html links on the BSS side.