I have been using Bootstrap Studio for sometime but never joined the forum. Anyway, this is just a basic proof-of-concept for myself. I used to build mobile apps with Cordova years ago. And I think you can build a good mobile UI rather quickly with Bootstrap 5 and Bootstrap Studio. So I did. And it turns out, people are moving over to Capacitor now instead of Cordova to package your mobile-web into a mobile app.
So here's what I did – build the app UI and package it with Capacitor. It's not a full complete app yet. That would need a lot more Javascript programming I think. But this is definitely doable.
Here's a hosted version of the app UI. I kinda copied the UI of an e-wallet app that is widely used in Malaysia called Touch N Go, just for practice. I used a cards, icons, off canvas, etc.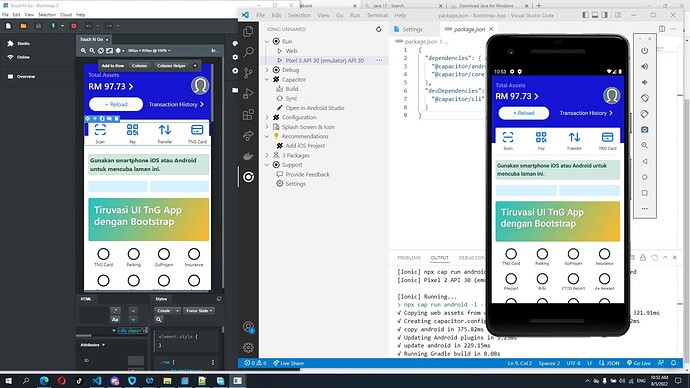 Getting the design to work with Capacitor is the challenge. I spent hours last night figuring that out. I ran issues with JDK version, NPM, Gradle, emulators, Ionic / Capacitor setup, etc… But once I got over that, building and running the UI in the emulator swift.
Anybody else is doing this? I mean building mobile apps with Bootstrap Studio. Care to share your process?