Just building my first full site with BSS. Using BS5.
I'm fine with the core components of Clean Sky theme. However, I don't need the extra js and whatever else is included for a couple of things, and some other things look locked down. So, I just want to start a blank project and copy and paste components as I need them (eg. navbar, footer, any section, contact form etc).
I want those components to come across looking and functioning the same, then I can make my alterations (color, font, etc).
However, so far I haven't had success with this. I don't understand why the CSS is not applied in the new design? The HTML can be copied over no problem, but it essentially without CSS. When I look at where the CSS comes from in Clean Sky, it is not some custom CSS file on a server somewhere. It is 'Bootstrap'. If I am copying a component from a Bootstrap 5 design (Clean Sky) to another Bootstrap 5 design (my from-scratch version), then why does it not apply Bootstrap 5 CSS and look the same? It is completely broken, as if there is virtually no CSS.
Any guidance as to what I am doing wrong?
Help appreciated.
Clean Sky BS5: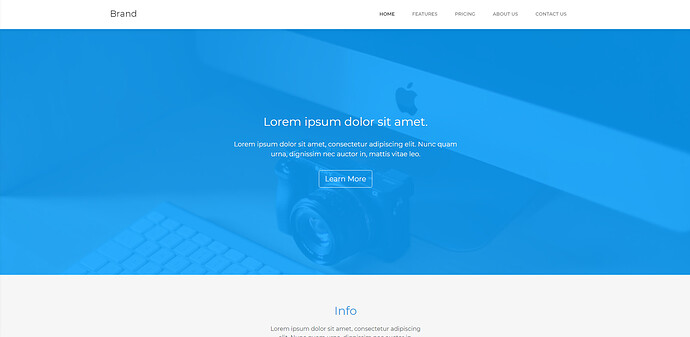 Elements copied to a new BS5 design: