Until now, I'm playing with Reflow, but didn't build a real store with it for now. Soon, I'll have to build one and I have to decide if Reflow is ready for my goal or not… So, I have to proceed with some testing and here are my current questions related to this:
I quickly built a dummy Reflow based shop against a Stripe account (one created through the Reflow process), but I don't know how to place a test order (to see received emails and overall process). I tried with the testing data according to the Stripe doc there: Testing | Stripe Documentation, but it tells me my order is in live mode while I submitted a test card. And switching to "Test mode" in the Stripe account doesn't change anything (maybe because there is no visible product in the Stripe account, all is made on fly between Reflow and Stripe during an order from cart). Well, so, my question is: how to submit a test order?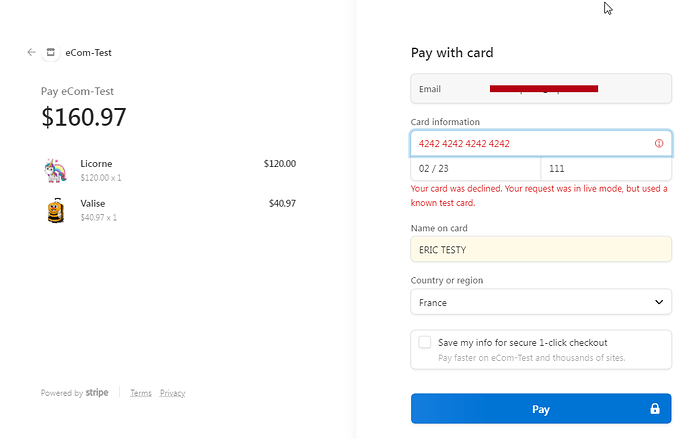 I well understood from other thread in this forum that you're working on the possibility to sell then download digital products through Reflow, but in my case, I need to be able to do that right now (don't misinterpret what I'm saying here, it's not a way to urge you, its my personal reality – people in front are not aware of our headaches) with or without Reflow ; of course, I would prefer with since going to another solution would break the tight integration with BSS… Well, so, I know how to provide a download link, even a personal one (after double opt-in signup before reaching the possibility to order for example), I know how to on-fly watermark the downloaded ebooks, etc. but for this, I have to have a hint about the ordered products afterward; I mean on return after a successful order. Currently, we indicate a success page in the Reflow account, but this is a general page without the possibility to provide a link there without knowing what was in the cart. Maybe I could indicate the URL of a CGI or any other server script as success page, but it would have sens if Reflow is able to pass it the product references during the GET and/or POST request (or even through cookie). I already do this for other websites of mine (I mean for me and/or my customers – some being partners) since I worked these last two years on a kind of "framework" for self-hosted sale funnels in C++ (work in progress, the task is large), but the key difference is that in these funnels I'm selling products one by one and, by the way, I just indicated a specific success URL for each product. So, in brief (he said LOL), do you have a trick to catch the list of ordered product after purchase? Preferably something easier than parsing the email or status page, of course (sic!).

And last, short question (I think of your nerves;): is there a way to customize the email sent to the customer after purchase? If only to translate it (if not usable to provide a link for download(s)).
Nice day everyone
–
EDIT: Regarding question #1, I see in the Stripe account (login directly to Stripe, not going through the Reflow settings interface), that there're both live and test API keys. So, it should work in test mode if you could provide a way to populate the cart form calling Stripe Checkout with the public test key instead of the live one.