Hey folks! Happy to report that we just released Bootstrap Studio 5.8.0. Here is what's new:
New
Bootstrap Studio now has a light theme! You can activate it from Settings > Interface.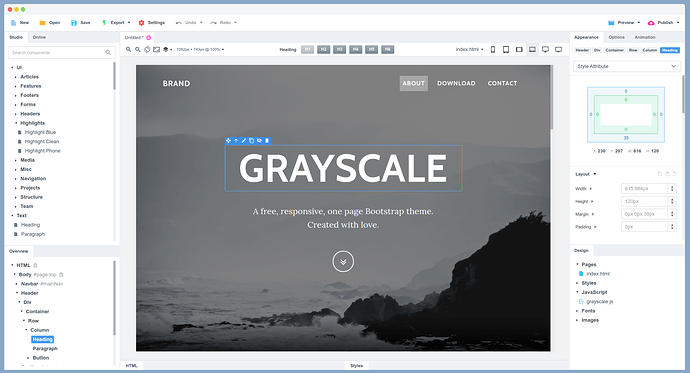 Improvements
New Copy/Paste and Reset buttons were added to all groups in the Settings panel. They let you quickly transfer settings between components. This is especially handy for animations.
The CSS editor is now smarter. It detects when rules are overridden by other blocks and lets you navigate to them. The "Styles" tab also takes media queries into account when showing the CSS blocks that affect the selected component.
You can now copy and paste multiple components and files simultaneously.
A new "Target" group was added to Button and Link components' options. It lets you select Modals, Offcanvas and Toast components which the button/link would trigger when pressed. This eliminates the need to write data attributes manually.
You can now set backups to never be deleted in Settings > Backups, and you can trigger backups on demand with Ctrl+Shift+B (Cmd+Shift+B on macOS).
When exporting, smart-forms.js and chart.js are added only to pages which need them.
Bootstrap and Google Fonts were updated to their latest versions.
In the coming weeks we will be releasing 5.8.x updates with the rest of the features planned in the roadmap.
As always we would love to hear your feedback!